Painting

Painting glass is a method of decorating it.
Glass is painted using 2 types of paint:
enameling with mineral ceramic paints – enamel glass paint is a special paint consisting of a glass base (fine glass dust) and properly selected pigments. When the paint applied to the surface, it blends and permanently fuses with the surface during the tempering process. This provides a hard coating that is difficult to remove mechanically and chemically. After tempering, the glass can no longer be processed.
lacquered with water-dilutable varnish or chemically hardened (solvent-based) paints – the advantage of this type of paint is the possibility of further processing of lacquered glass, including cutting, grinding etc.
Paint is applied using 2 technologies:
full-surface painting of glass with the help of rollers – this process takes place in a roller coater specially designed for this purpose and it guarantees that the painted surface has high quality. The glass form is placed in a horizontal position between the rollers. One of the rollers contains a precisely dosed amount of paint. The paint is transferred from the roller to the glass through precisely set roller pressure put on the material. This process ensures an even layer of paint over the entire painted element.
Minimal print format: 35 x 250 mm
Maximum print format: 1300 x 3300 mm
Thickness range of printed glass: 3 - 19 mm
screen printing - a technological process consisting in applying paint to various types of surfaces using a screen on which a printed image is reproduced. The matrix is ​​prepared depending on the size, shape and pattern. This technique makes it possible to paint various types of designs as well as entire surfaces.
Minimal print format: 50 x 250 mm
Maximum print format: 1300 x 2500 mm
Thickness range of printed glass: 3 - 19 mm
Contemporary architecture is using glass as a decorative material more and more often. Painted glass has various applications, ranging from small decorative and furniture elements, through interior design elements, to partitions and wall coverings. Finally, it is also used in thick safety glass such as balustrades, railings, elevator shafts, glass stairs, floors and platforms. This kind of glass is often used in architecture for glazing building facades, forming the so-called second skin, or in glass elements, where it performs an additional function of sun protection.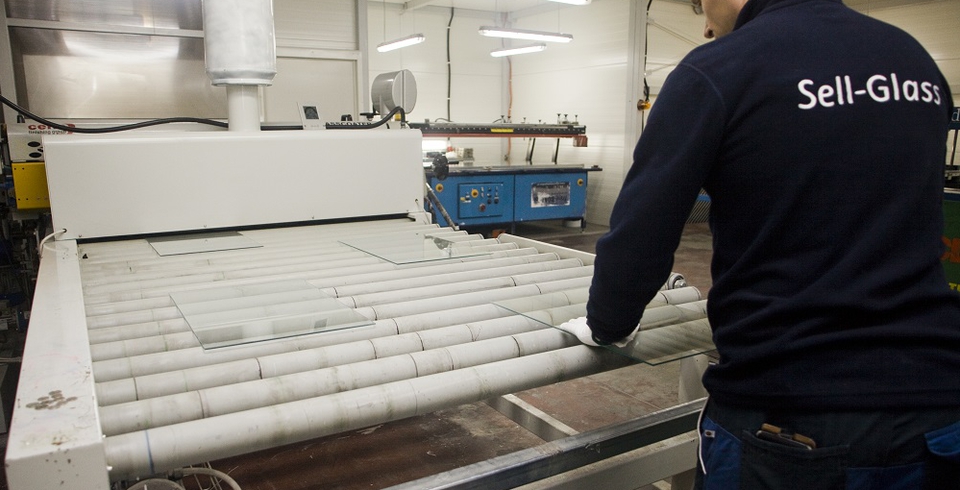 Production order processing department